Oh gosh, it's nearly the end of 2019 and no updates here? Let's rectify this immediately.

Hello!

It's time again for yet another time capsule post, so let's have a round up on what those lazy people at D-Bug were up to since the last time.

No new releases this year :(

Oh boy we came close. Spirits were high, the releases are very close to ready and tested (and at least one of them super rare!), the menu was being coded, but...... Unfortunately we ran out of time and steam. Our release was supposed to be submitted to a demo party (we won't say which, that would be telling) but the intro was over ambitious and would require graphics and a lot of work. Coupling that with the looming deadiline and the fact that we went to that demo party to see people and have fun, we made the hard decision to hold back until everything would be proper ready.

The sad fact is that we didn't continue working on the release after the party as focuses and interests shift occasionally. But rest assured, we will have something out soon! (fingers crossed!)

With that out of the way, let's cover the guys' other activities.

Outline

What year would be complete without our favorite Dutch party? Both Showaddywaddy and GGN had to be there for 4 days of carelesness, fun, and a bit of hacking as usual! (and of course lending a hand to the compo team as Shw's Mega STE had the honour of running the few Atari releases!) The usual Atari people of the past years were there: SPKR/SMFX, TiNKer/Lineout, Havoc/Lineout, CiH/Maggie, Felice/Maggie, tIn/Newline (it was a pleasure to meet a legendary person from the 90s, we hit it off imediately), Tronic/Effect, LFEE, Beetle/Cyanoacrylate Dreams, Gaz. And of course people from other platforms like Fra/Resistance, Gasman/Hooy-Program, TheBat/Guideline, Numtek/Guideline, and so on and so forth.

This year was a bit special as the party bids farewell to the Willemsoord location. So we made an effort to show something worthwhile for the compos!

First of all, a new demo!...well that's not true at all, but it was new to most of the people - just not to us!

Total apathy was the name of what was destined to be the Bad Brew Crew's mega demo. Sadly the demo was never finished (and yes the irony is not lost to anyone - the demo's name was prophetic and probably the main reason for no release!). But a lot of the screens were floating about in old backups of backups. Some of them were used as D-Bug menus, some were leaked into compilations. However they were never released into a single pack with a menu and all. Shw wanted to release this for a long time now and this year he finally made the effort to put everything together.

Since the whole project started in the early 90s Shw thought it would be appropriate to put everything on a boot floppy with custom loading code etc, none of that fancy hard disk the kids do these days! A small intro was put together by Shw and GGN, things were tested thoroughly (as usual) and that was it.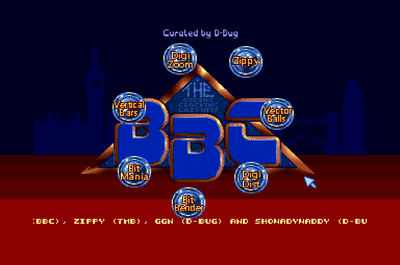 (Of course one week before the party Cyrano Jones sent us a few extra screens he found that we didn't have so we had to re-master the demo disk - d'oh! But no matter, it was all done in time)

(Hidden screens? What's that?)

But that's not all! Since the start of the year GGN was hacking away at a utility that statically converts Z80 code to MC68000. The reason for that was for him to port over a game from the ZX Spectrum (boo!) called Maziacs (thanks to SPKR for mentioning this game). The rationale behind the tool was to have the gameplay code behave 100% identical to the original version, not trying to guess what the game did and replace the graphics and input routines with native 68000 code. Thanks to the brilliant as usual SH3 we have a title screen that matches the conversion's chosen name (Bugziacs, feel free to download and try it out btw!) and new graphics that were drawn during the party by TiNKer we released a much more polished product that was originally envisioned.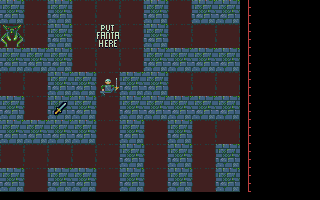 We won't bore you with the details here, GGN has written a quite long article explaining the whole process and a bit of development history, you're welcome to go and read that!

8-Bit symphony

Yes, we were there! How could we miss that event when it was being orgainsed in Showaddywaddy's home town (Hull)? That's right, we couldn't! Not even one month has passed since Shw and GGN met and now they were off to see the first symphonic concert of tunes from the 80s. We teamed up with gwEm/PHF, Tat/Avena (another mythical Atarian from the 90s we had the pleasure of meeting this year, we're on a roll!), and of course Tronic and Gaz were there. Was it good? Well, you'd have to be there for yourself, we won't share opinions here.

There's not a lot to say here as this wasn't a demo party but everyone had a relaxing time talking about looming deadlines and stress from demo coding ;). All the same it was a nice weekend in rainy UK.

(also, as Tat put it: "The unforgettable Serena Williams")

Sommarhack

Without losing steam, GGN joined the merry Swedes at yet another edition of their lovely Atari party. Again many lovely people gathered together in such a small place: Evil/DHS, XiA/SMFX/The twist team, Acca, SPKR/SMFX, Modmate/SMFX, 505/SMFX, Wiztom/Aggression, Deez/Evolution, Baggio/Evolution, gwEm/PHF, Damo/Reservoir Gods (and what a pleasure it was meeting him again after so many years!), Britelite/Dekadence, Ricky Martin/Decadence, Daniel/New beat (AKA Dan Dan the beer man!), Freeco/New beat, Instream/Nature, Hencox/Nature, PeP/SoS, Nerve/Ephidrena (again, lovely to see again after a long time), Frequent/Ephidrena (like we said, meeting legends this year!), Emphii/Extream, No/Escape (beyond words, so happy to meet up again), Mikro/Satantronic, Sedma (yeah yeah giants etc)...

So what we had in store for the party? Well, Ambermoon Music Demo - something that Shw and GGN worked in many many many many years. Every time we would pick this up, reach to the point of 99% being done, and then something would happen and we'd put it aside. This year we just had to release it as the tunes (which Showaddywaddy got from Big Alec many years ago) were finally leaked out. Our hand forced, we decided to make a final push and get it out the door. By no means a big feat (especially compared to the top notch releases we witnessed that night at the party), but at least better than no release!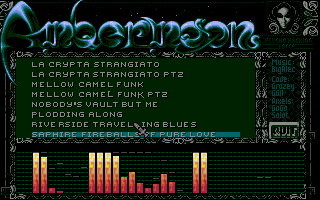 It was one of those parties that one wishes could never end, or last for 2-3 days more so as to catch up with everyone and have fun. All good things must come to an end though so people parted ways, big hugs all round and that special feeling one has after meeting people like family.

Sillyventure

So it turns out that Sommarhack wasn't the end of our Atari activities for the year. We didn't plan for that though. We were happy to be idle and enjoy life for a while. But, well, accidents do happen...

SMFX were conjuring up a demo to celebrate their 3rd year of Atari activities. As pretty much everyone knows now, it is basically a reimagining of Razor1991's 2011 demo . Accidentally (ho ho) SPKR asked GGN to lend a helping hand, and he reluctantly accepted, not knowing how he could be useful. After re-acquainting himself with the demo (8 years is a long period!) GGN asked where could he be helpful and spkr pointed him to the part of the demo that featured a 3D landscape.

Again by accident (no joke!) GGN remembered the fractal landscape of Ooh crikey wot a scorcher which gave birth to Killing spree which GGN helped bring into presentable shape for Outline 2014! The source was out there, so why not make use of it? So sure enough the code was stripped down and beaten into working with SMFX's demo system with not much fuss (which speaks volumes for Manikin's code if anything!). Finally the glenz vector end part was reimagined and GGN generated the bouncy sprite paths for that. That's it, the rest is SMFX's work and don't let them tell you otherwise!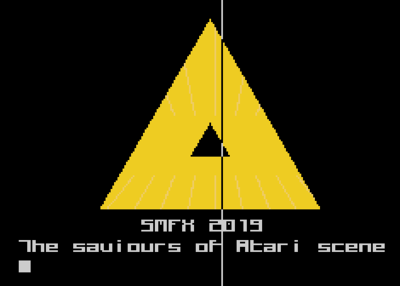 "We accidentally released" was released at the party and you can see the result for yourselves by clicking the link!

What's next?

So that's pretty much it for this decade. People mostly knew all the above without reading this page. So what's next for D-Bug?

Like we said, we do intend to get back into making menus. This year didn't go as planned and we're sorry, but there's no use crying over spilled milk. We plan to rectify this!

And a small plea at this point: As much fun as it is doing everything in-house, it can sometimes become overwhelming. Putting a menu together requires some resources like menu code, graphics, music, testing. So if you feel like contributing anything, we'd be more than happy to accept!

Also, Showaddywaddy has been secretly donning his Grazey hat and ripping out tunes from pretty much everywhere for the SNDH archive. A new release has been well overdue, that's also coming soon!

Next year it'll be D-Bug's 30th birthday, so we plan to celebrate it with a bang (or two)! We hope you'll join us in the celebrations!

With love for the scene,
GGN and Showaddywaddy