What a year 2020 is shaping up to be... We hope everyone is healthy and safe and that there will soon be a cure for this bad situation we're all in called COVID-19.

To lighten up the mood slightly, here's what we've been up to lately, in chronological order:

New domain name

For various reasons we now have a second domain name running in parallel to our old one. We welcome the new kid on the block, https://d-bug.me! Please note that if you have issues with accessing the site in either of the two domains, don't hesitate to get in touch with us stating the problem and we'll patch it up sharpish.

rmac and rln website

Prehaps you've heard of these before, perhaps not. The fact is that GGN has been helping Shamus of Underground software (Virtual Jaguar fame) maintain and extend an assembler and linker aiming to support all Atari platforms, from the 800 to the ST, Lynx and Jaguar.

rmac and rln are direct descendants of the official Atari ST dev tools: Madmac (by Landon Dyer) and aln (By Alan Pratt). The tools currently support most of the CPUs found on Atari platforms including 68000, 68030, the Jaguar custom CPUs, the 6502 etc.

Alas, the tools never had a home page of their own, but instead they relied on forum posts and obscure repositories if people wanted to check them out. Well, no more! a brand new site was created for the pair which includes history, download links, comprehensive manual and a fun (we hope!) theme. So, without further ado, you are very welcome to visit http://rmac.is-slick.com to get informed, and perhaps, who knows, even try the tools out!

(Just as a footnote: rmac is now listed on Wikipedia too, yay!)

SNDH blog

Remember this one? The thing where Showaddywaddy once every few years writes a random post about things? Well, it's been updated! This time featuring two sizzling items: the glorious conclusion of "From Hull and back" and the first in a series of music ripping tutorials. Go have a read, it's well worth your time!

Outline 2020

Since most of the parties this year are moved to the online format (it beats having no parties at all), all our releases have been remote. To kick off things, Showaddywaddy wore his PHF hat yet again to participate in the highly competitive 256 byte compo! With an ST release of course, and a game to boot!





PHF Rally came third in a highly competitive mixed platform compo, which is either a great achievement or proof that people are always name voting. In any case, a place in the podium for SHW!

Gubbdata 2020

What? What's all this nonsense about Atari entries at a Commodore party????

We'll spare you with our thought process (because there mostly wasn't one), but it sounded a good idea to GGN, tIn and XiA to start a demo from scratch for that part roughly 3 to 4 days before the compo deadline.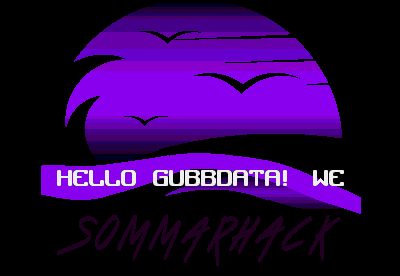 Visuals accompanying music is probably one of the most literal translations of a demo release. GGN and tIn heard a preview version of the tune XiA had composed and thought it would be a pity to not have some fun things showing while the music is playing. Initially destined to be released at Sommarhack, it is not an invite for that party! We just liked the logo, that's all. Honest!

Despite the harsh deadline we had plenty of fun rigging this up. It ranked 3rd (again!) in the Other Platform Demo competition, not bad... considering there were only 3 entries! We'd like to take this opportunity to thank Hedning of Genesis Project and Troed of Sync for the patience and support during the party. (meaning: a super extended deadline)

Sommarhack 2020

Finally for now, GGN and tIn made their (virtual) presence at Sommarhack by doing a ST port of a well known Atari 800 product:





Yes, Mona made its way to the Atari ST computers. This little gem by Ilmenit was ported to various platforms (see click on the link to the original and read the Pouet thread for more info), but the ST was left out in the cold. GGN and tIn thought they should rectify the situation, and they did!

The port keeps the 256 bytes limitation (something that only one ZX spectrum port has managed so far), even though the 68000 has on average double the size for an instruction than the 6502! This means that we managed to squeeze the same functionality with less instructions! ...or did we? A quick look shows that the Atari 800 version uses 52 instructions and the ST version 49. How did we do it then? Well, you'll have to wait for the eventual write up. Be patient!

For some reason this ranked first in the 256 byte compo tied with SFMX's entry. Thanks everyone for voting for us. And an even greater thanks to Ilmenit for the original which is nothing short of a masterpiece, if only for the concept itself.

Winding down

And that was 2020 so far from us. As for actual D-Bug activities... yes, they're still coming, hang in there.

And most of all, stay safe!

See you around...